What is intrahepatic cholangiocarcinoma (iCCA)?
iCCA is a subset of cholangiocarcinoma (CCA)
CCA, the most common primary malignancy of the bile duct, is classified by anatomic origin into iCCA and extrahepatic CCA (eCCA). eCCA is further divided into 2 types1-3:
Perihilar CCA (pCCA) (also termed "Klatskin's tumor")

Distal CCA (dCCA)3
iCCA originates in the bile ducts within the liver.1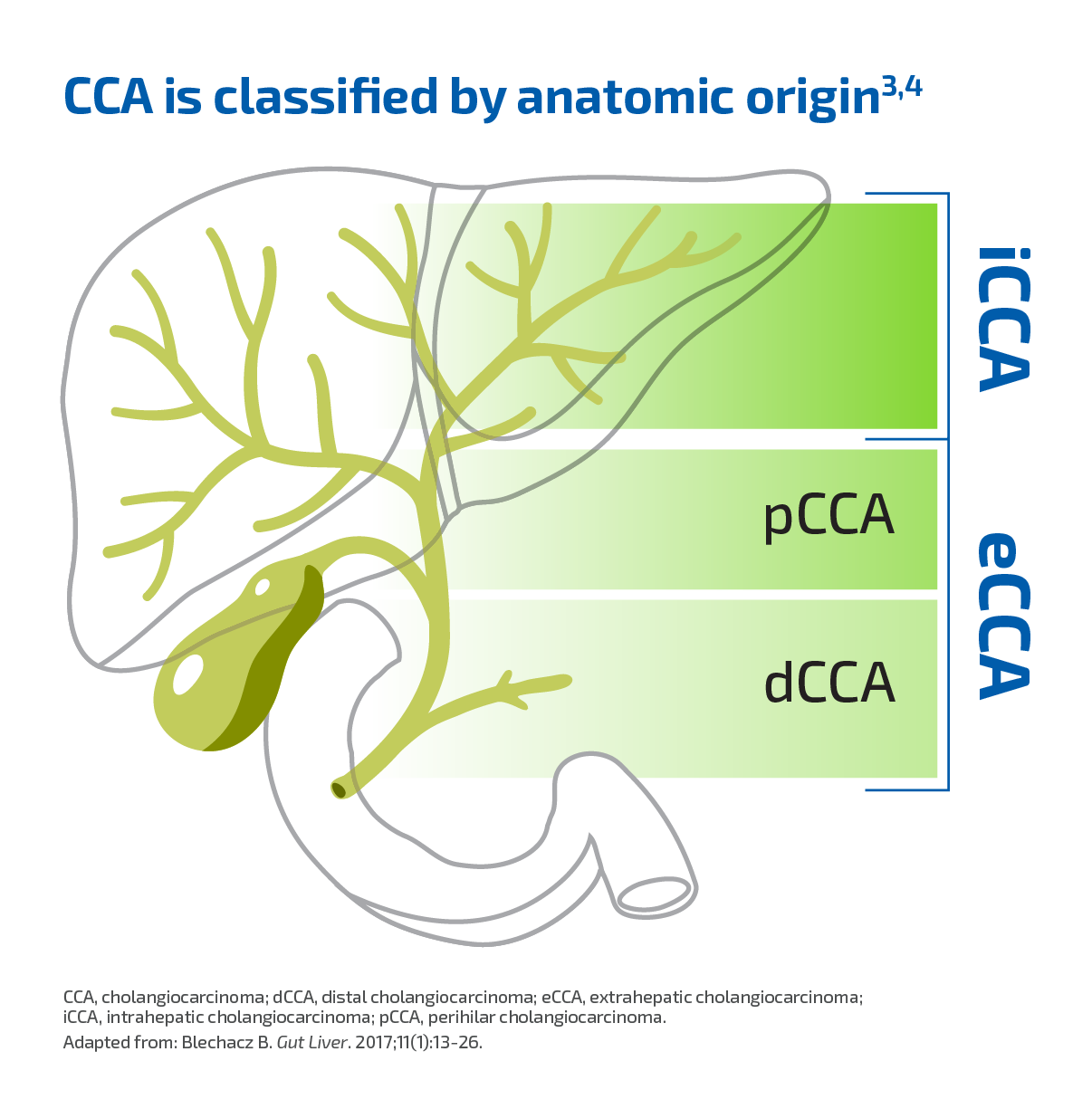 Important molecular differences are emerging among anatomic subtypes.5
Although rare, the incidence of iCCA has been increasing
The increasing incidence of iCCA may be due to factors including6-9:
Increasing burden of chronic liver disease

The potential role of environmental toxins

Improved diagnostic tools and imaging

Epidemiological trends such as increasing prevalence of diabetes, obesity, and alcohol use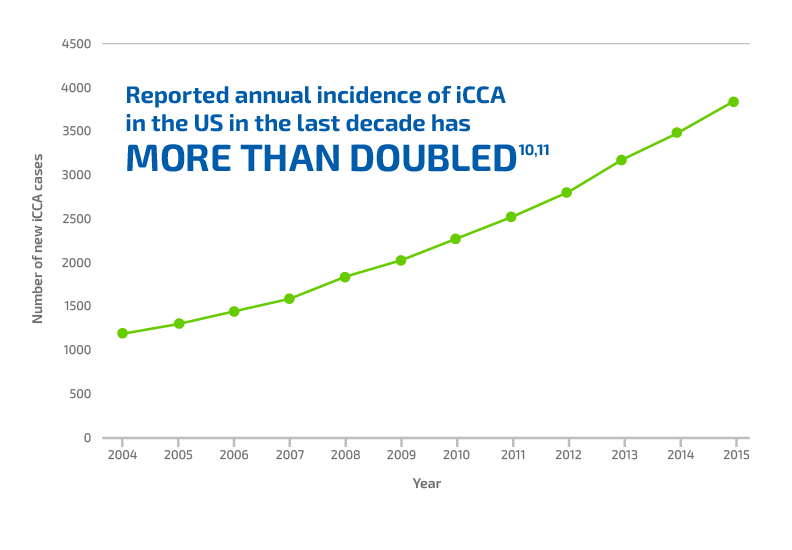 Adapted from: Wu L, et al. World J Surg. 2019;43(7):1777-1787.
Patients with iCCA face significant clinical challenges, including a poor prognosis and limited treatment options
In spite of improved technology, numerous diagnostic challenges persist in iCCA, including:
Its asymptomatic nature at early stages4
Nonspecific clinical presentation12
The absence of specific biochemical and serum tumor markers7,12
Difficulty distinguishing from metastatic disease of other cancers—such as breast, lung, and pancreas—that have spread to the liver from other primary sites7
As a result, 60% to 70% of patients were first diagnosed with metastatic or unresectable disease, with a median survival of ~12 to 15 months.13 For the 30% to 40% eligible for resection—the only potentially curative treatment—the majority (~60%-65%) experienced disease recurrence.14-16
Patients with advanced iCCA and other biliary cancers have a poor prognosis. While gemcitabine/cisplatin is an accepted standard for first-line treatment, therapeutic options are limited in the second line (2L): and with no approved therapies, patients may only receive best supportive care.13,17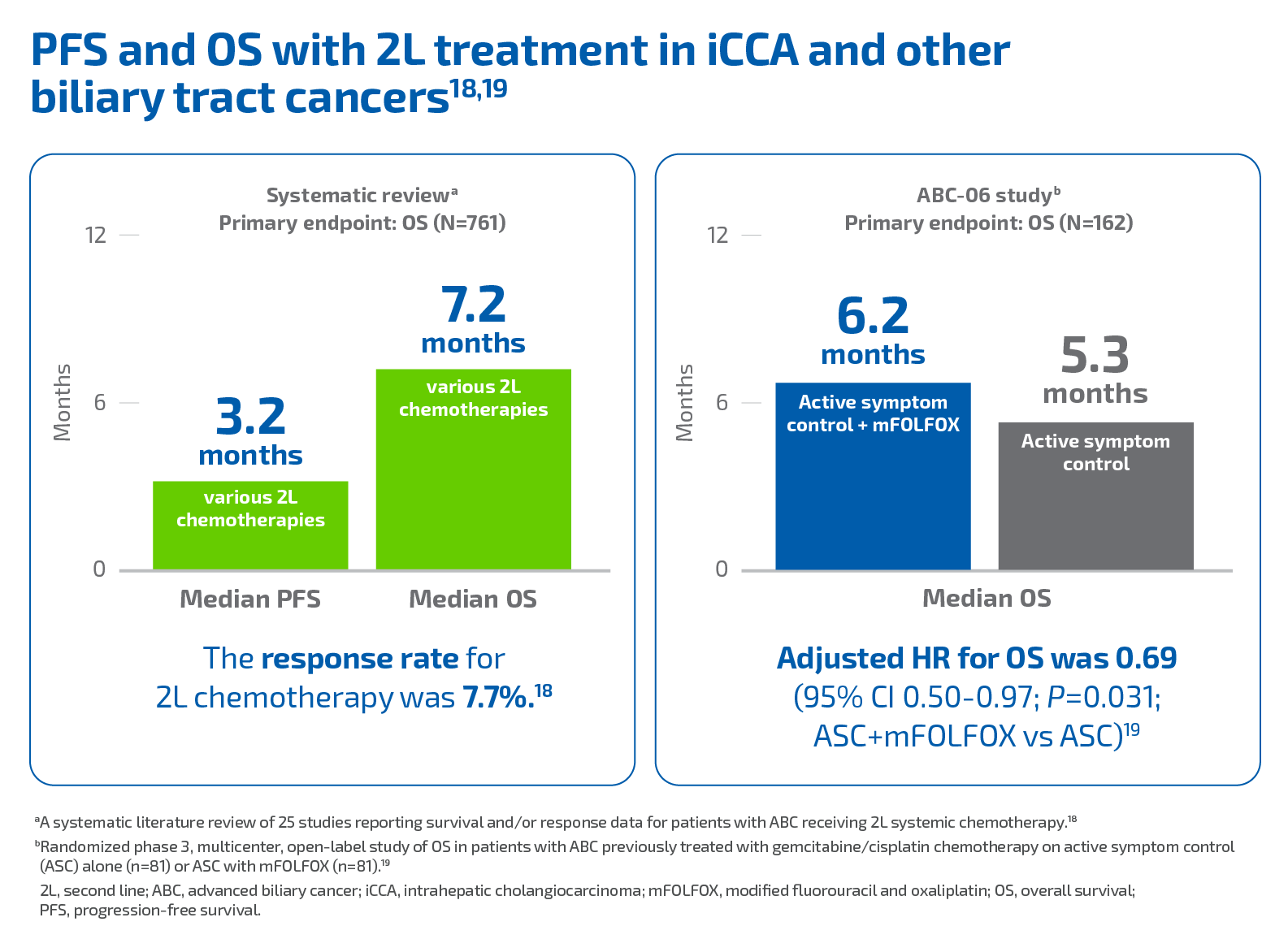 REFERENCES: 1. Ghouri YA, Mian I, Blechacz B. J Carcinog. 2015;14:1. 2. Ghidini M, Pizzo C, Botticelli A, et al. Cancer Manag Res. 2019;11:379-388. 3. Razumilava N, Gores GJ. Lancet. 2014;383(9935):2168-2179. 4. Blechacz B, Komuta M, Roskams T, Gores GJ. Nat Rev Gastroenterol Hepatol. 2011;8(9):512-522. 5. Lowery MA, Ptashkin R, Jordan E, et al. Clin Cancer Res. 2018;24(17):4154-4161. 6. Khan SA, Tavolari S, Brandi G. Liver Int. 2019;39(suppl 1):19-31. 7. Saha SK, Zhu AX, Fuchs CS, Brooks GA. Oncologist. 2016;21(5):594-599. 8. Mukkamalla SKR, Naseri HM, Kim BM, Katz SC, Armenio VA. J Natl Compr Canc Netw. 2018;16(4):370-376. 9. Petrick JL, Yang B, Altekruse S, et al. PLoS ONE. 2017;12(10):e0186643. 10. Wu L, Tsilimigras DI, Paredes AZ, et al. World J Surg. 2019;43(7):1777-1787. 11. Patel N, Benipal B. Cureus. 2019;11(1):1-10. 12. Banales JM, Cardinale V, Carpino G, et al. Nat Rev Gastroenterol Hepatol. 2016;13(5):261-280. 13. Bridgewater J, Galle PR, Khan SA, et al. J Hepatol. 2014;60(6):1268-1289. 14. Rizvi S, Gores GJ. Gastroenterology. 2013;145(6):1215-1229. 15. Choi SB, Kim KS, Choi JY, et al. Ann Surg Oncol. 2009;16(11):3048-3056. 16. Endo I, Gonen M, Yopp AC, et al. Ann Surg. 2008;248(1):84-96. 17. Valle JW, Lamarca A, Goyal L, Barriuso J, Zhu AX. Cancer Discov. 2017;7(9):943-962. 18. Lamarca A, Hubner RA, David Ryder W, Valle JW. Ann Oncol. 2014;25(12):2328-2338. 19. Lamarca A, Palmer DH, Wasan HS, et al. Presented at: American Society of Clinical Oncology (ASCO) Annual Meeting; May 31-June 4, 2019; Chicago, IL: Abstract 4003.